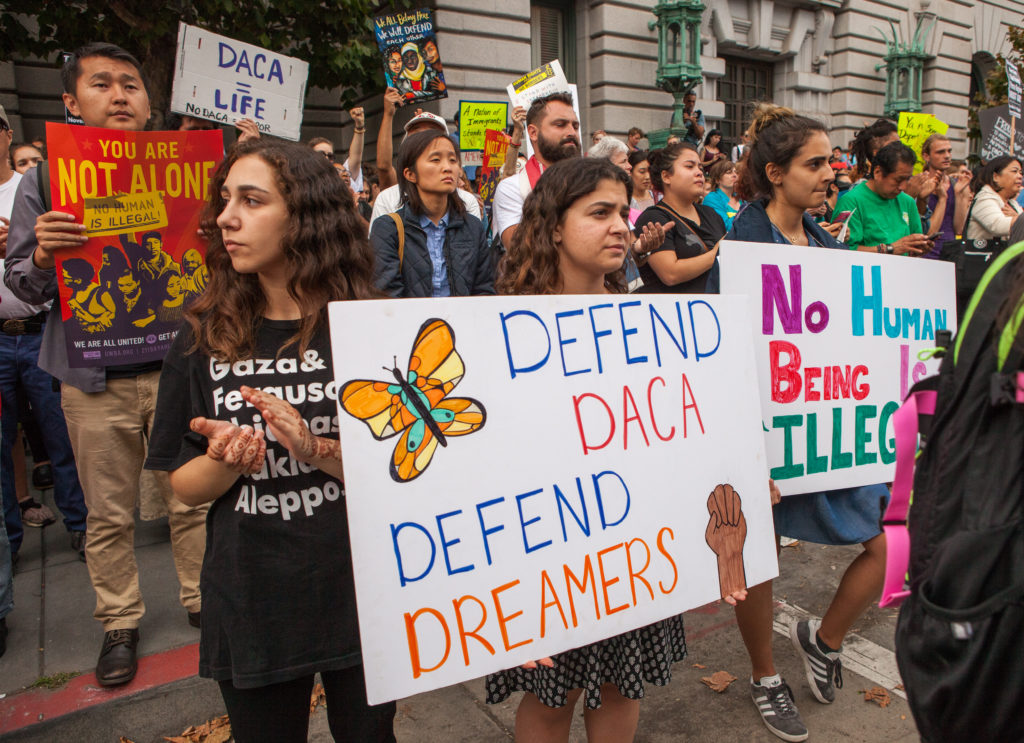 On September 5, 2017, the Trump administration ended DACA protection for 800,000 young undocumented immigrants known as Dreamers. DACA protects young undocumented immigrants who came to the U.S. as children from deportation. The Department of Homeland stopped granting DACA to new applicants, and gave current DACA recipients a final two-year extension. Their plan was to phase out the program starting September of 2017, with a planned end for March of 2018. Since September of 2017, an estimated 1,000 dreamers a day have lost  their work permits and protection from deportation. That effort was overturned on Tuesday, January 9th 2018, when U.S. District Judge William Alsup from San Francisco, said the nearly 690,000 DACA recipients must retain their work permits and protection from deportation while a lawsuit challenging the decision to end the program moves forward.
Due to a federal court order, USCIS has resumed accepting requests to renew a grant of deferred action under DACA.  According to their website, "until further notice, and unless otherwise provided in this guidance, the DACA policy will be operated on the terms in place before it was rescinded on Sept. 5, 2017."  The Judge's ruling is limited however, the administration does not need to process applications for those who have never before received DACA protections, and said the federal government could deny them the right to return to the United States if they travel abroad.
There is still a lot of anxiety and confusion around whether any DACA recipients will lose protection between now and March. Homeland Security Secretary Kirstjen Nielsen told Sen. Amy Klobuchar (D-MN) that "no one will lose their status until March 5th or later, depending on what happens with the court."  It is my hope that Congress will pass legislation such as the Dream Act immediately, and not let another Dreamer lose their protection.  If your DACA work permit expires on or before March 5, 2018, then you still have to submit your renewal application.   Those DACA work permits that expire after March 5, 2018, will end on their expiration date.
Every DACA recipient should check the date their DACA or renewed DACA work permits expiration date and immediately renew if that date is on or before March 5, 2018.  Speak to an attorney if you have questions regarding your DACA status. To learn more about this post or any other matter, feel free to contact me, Jessica Ramirez at JRamirez@djdlawyers.com
From immigration matters to personal injury and workers compensation, Jessica brings a wealth of experience to her practice at D'Arcy Johnson Day. Her fluency in both English and Spanish enables her to help so many members of the community, as she focuses on accident and personal injury cases, work injuries, medical malpractice, immigration, criminal law, and municipal court proceedings among other areas of practice.